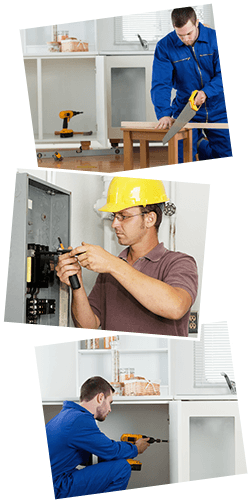 Do you need odd jobs done around the house? Our home maintenance experts can be dispatched to your home at short notice, ready to take care of property repairs, plumbing or electrical work, carpentry, tiling, flooring… and a whole host of other odd jobs! Call in our London handyman team, and prepare to experience our legendary service – fast, efficient and carefully designed to deliver the very highest standards of customer satisfaction.
Here are just a few of the home maintenance services we provide in London:
Water damage restoration
Furniture assembly
Property refurbishment
Property maintenance
Hanging and wall-mounting
Painting and decorating
Tiling, grouting and re-sealing
Carpentry services
Flooring
Plumbing
Electrics
Odd jobs
Enjoy the professional completion of all your household maintenance projects, by calling our highly trained and personable team of handymen. Years of training and experience mean that we've got the know-how and the skill to get any household job finished to perfection! From painting and decorating through to fixing a door handle, we provide home maintenance services with a friendly face. Our London handyman team is held to the highest standards of service… and we've had some great feedback from past customers, as you can see for yourself over on our reviews page.